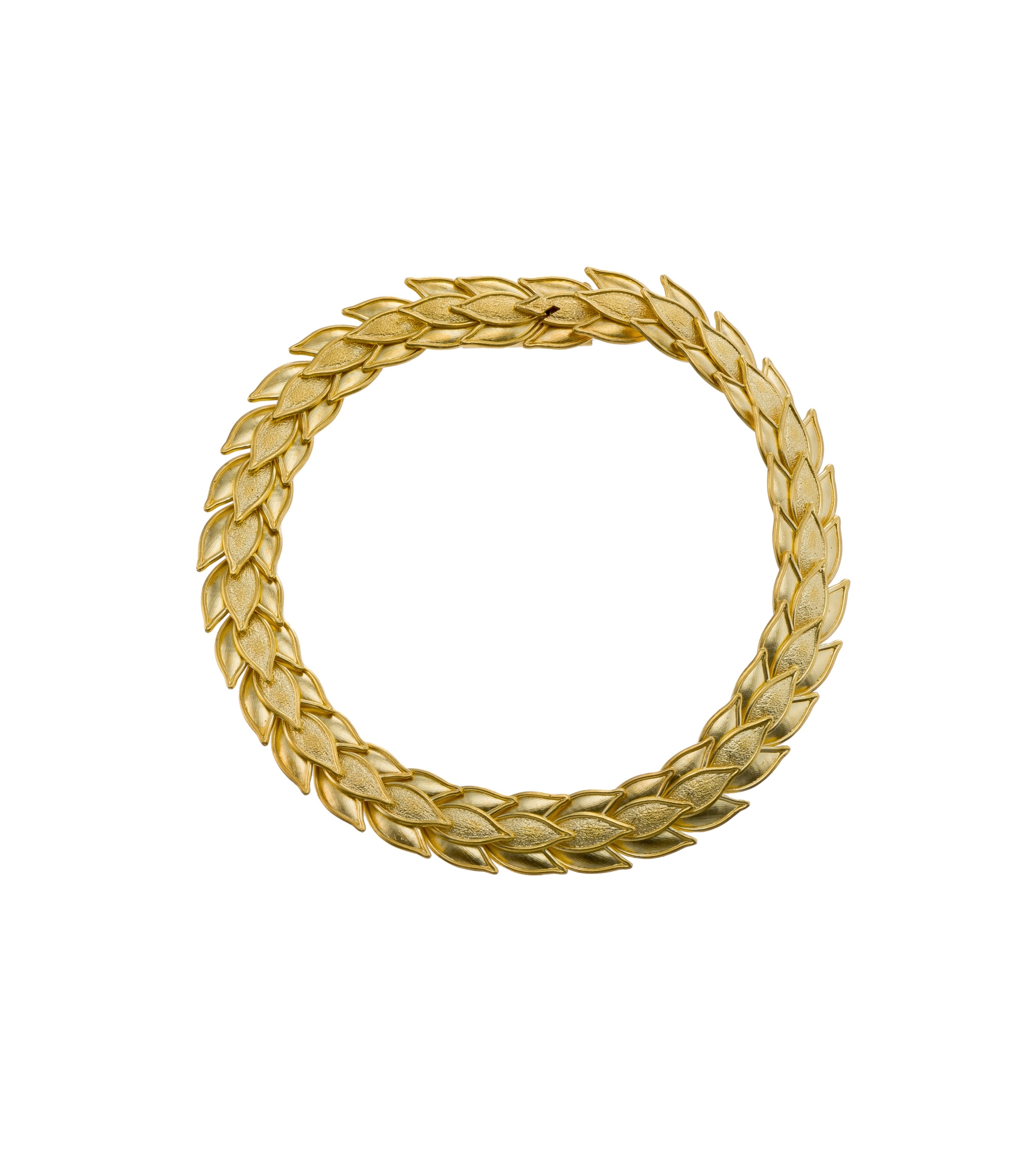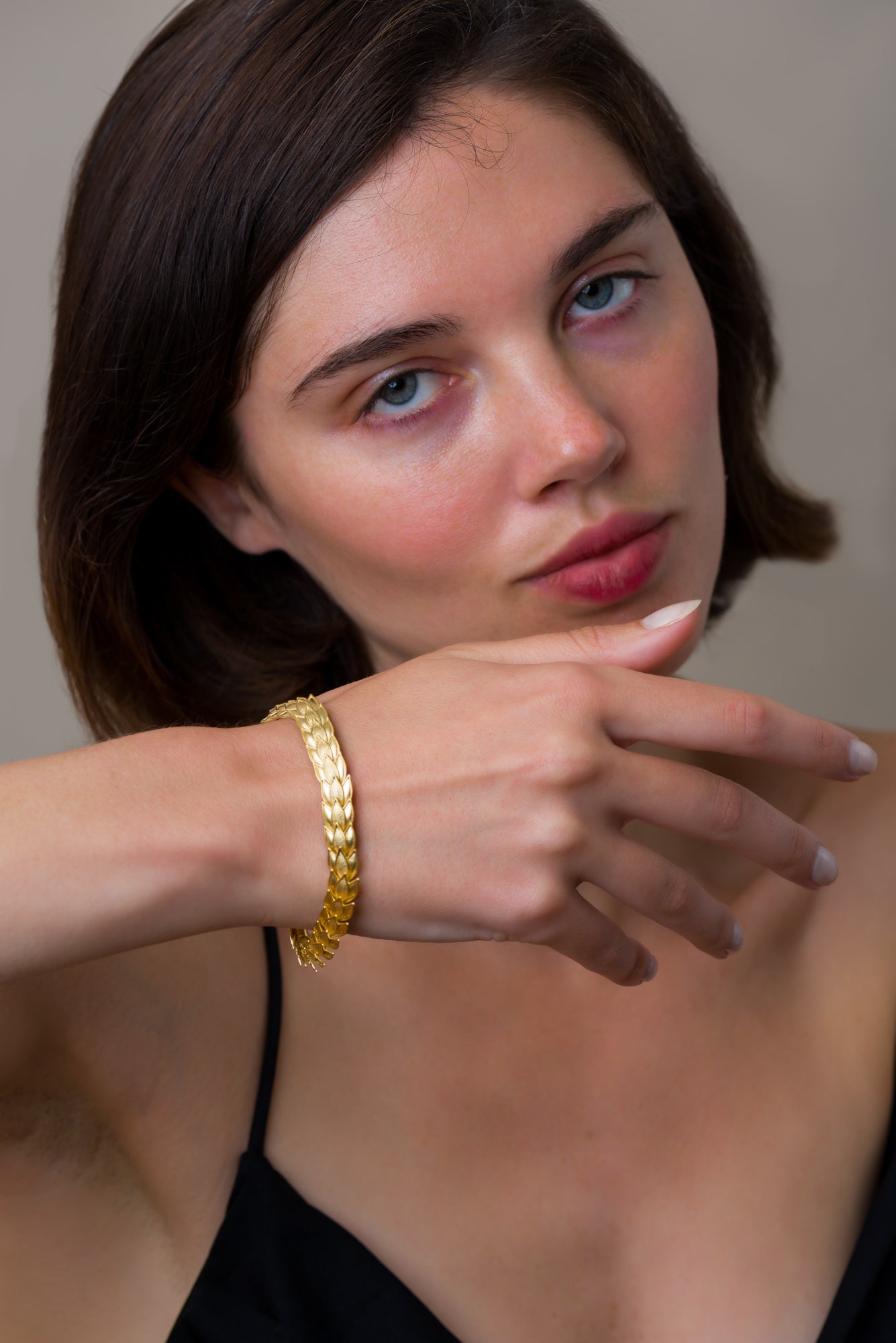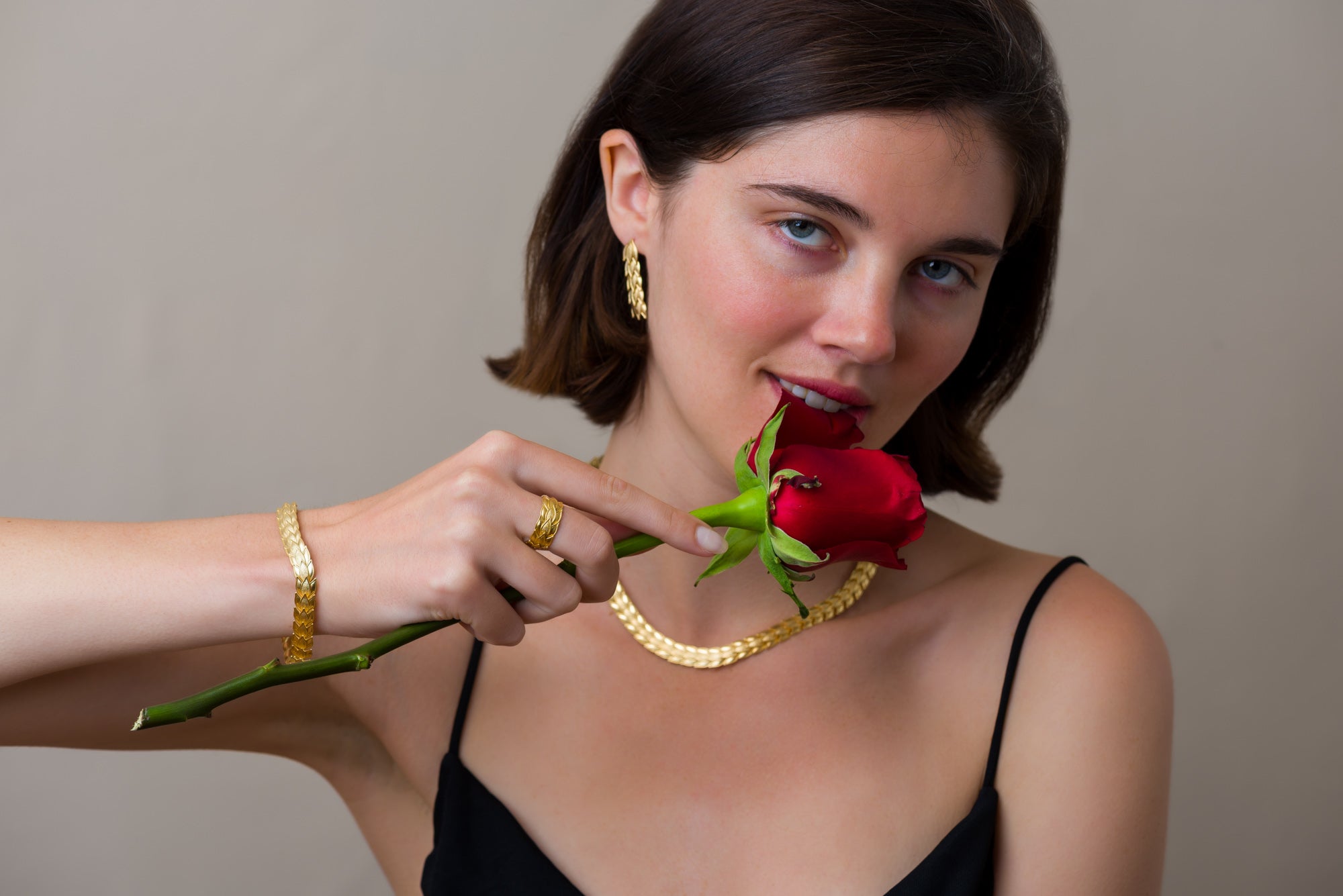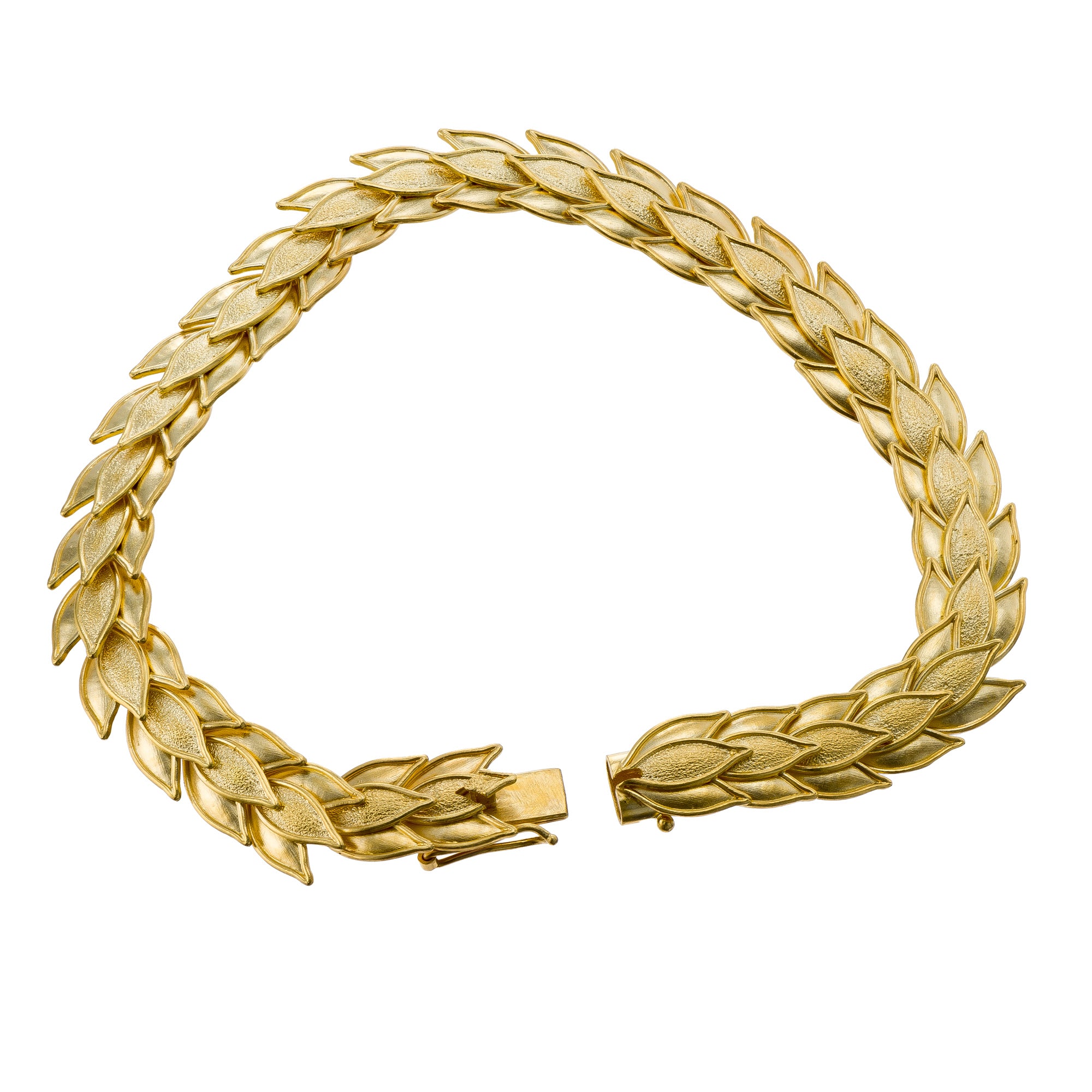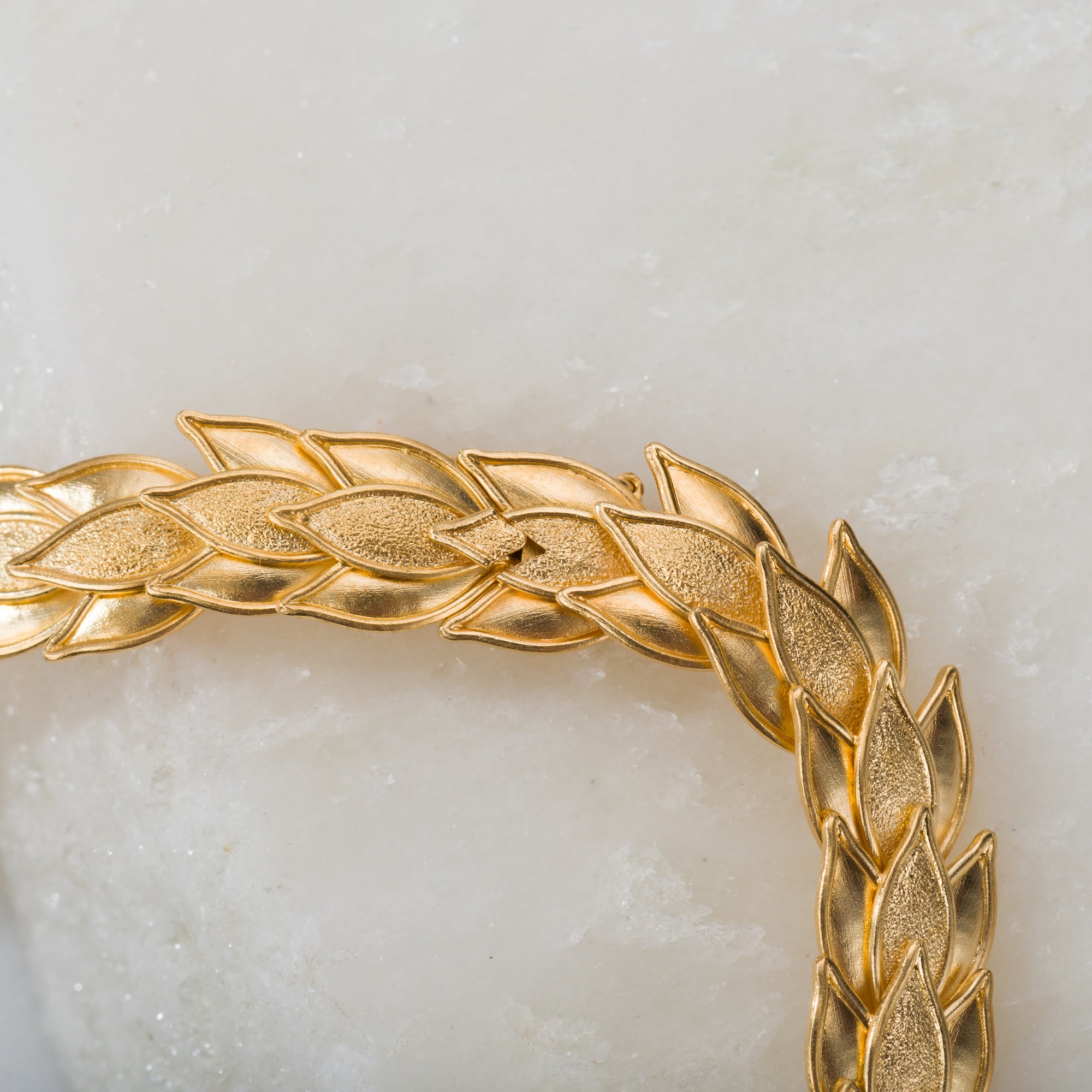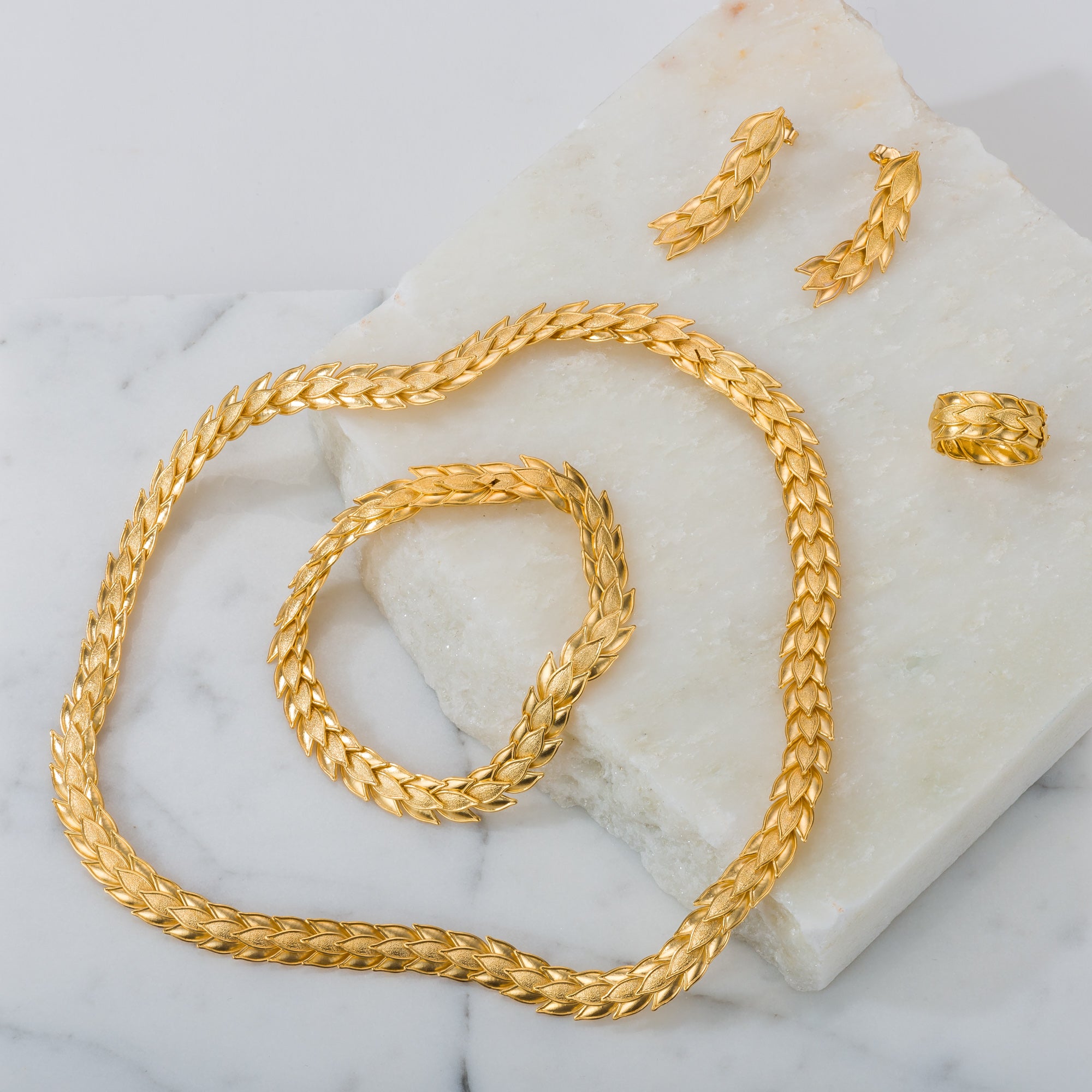 Byzantine Gold Daphne Bracelet
Description
Daphne is an ancient Greek name meaning laurel.
In Greek mythology, Daphne was a beautiful nymph whom the god of the sun, Apollo, fell in love with. Desperate to escape him she turned herself into the famous laurel tree and ever since that day her leaves have become a symbol of wealth, victory and perpetuity.
From the ancient times, emperors wore laurel wreaths on their heads to display their honor and success.
Today a crown made of laurel leaves, called the Olympic Laurel, is a special award for athletes who made significant contributions to humanity and peace through sport.
Drawing inspiration from the rich history behind this name we wanted to create a high jewelry set that could reflect these values of glory and opulence with its brilliance.
100% handmade in our workshop.
Metal: 18K Gold
Gift wrapping and packaging:
The order you receive is already prepackaged as a gift. The jewelry is lovingly packaged in a beautiful gift box.

All of our jewelry are hallmarked for certification purposes.

Feel free to contact us for any questions!

Thank you for shopping in our store! We hope you love our creations as much as we do!

Free shipping with tracking numbers on all orders.
Byzantine Gold Daphne Bracelet
Shipping & Payments
Free Shipping on all orders
For shipments to Europe
All orders are delivered via FedEx Express. Delivery time for European countries is 1-3 working days after sending your order.

For shipments to the USA
All orders are delivered via FedEx Express Delivery time to USA is 3-5 business days after your order is shipped.

For shipments to Canada-Australia and the rest of the world the delivery time is 5-7 working days after the shipment of the order depending on the country of destination.

For shipments to Greece and Cyprus All orders are delivered via DHL Express and the delivery time is 1-3 working days after sending your order.
Payment Options
At Odysseusjewelry.com you may pay for your order with the following secure payment methods:
Credit or debit card payment
Payment via Paypal
Deposit in a bank account:
National Bank
IBAN: GR6801101040000010400248729
Beneficiary Details: ΠΕΤΣΩΝΗΣ ΟΔΥΣΣΕΥΣ ΙΩΑΝΝΗΣ

Piraeus Bank
IBAN:GR9601720490005049096383701
Beneficiary Details: ΠΕΤΣΩΝΗΣ,ΟΔΥΣΣΕΥΣ,ΙΩΑΝΝΗΣ